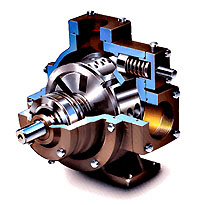 Vane pumps are used successfully in a wide variety of applications (see below). Because of vane strength and the absence of metal-to-metal contact, vane pumps are ideally suited for low-viscosity, nonlubricating liquids up to 2,200 cSt / 10,000 SSU. Such liquids include LPG, ammonia, solvents, alcohol, fuel oils, gasoline, and refrigerants.
Vane pumps are available in a number of vane configurations including sliding vane (left), flexible vane, swinging vane, rolling vane, and external vane. Vane pumps are noted for their dry priming, easy serviceability, and good suction characteristics. Moreover, vanes can usually handle fluid temperatures from -32°C / -25°F to 107°C / 225°F and pressures to 30 BAR / 400 PSI.
Each type of vane pump offers unique advantages. For example, external vane pumps can handle large solids. Flexible vane pumps, on the other hand, can only handle small solids but create good vacuum. Sliding vane pumps can run dry for short periods of time and handle small amounts of vapor.
How Vane Pumps Work
Despite the different configurations, most vane pumps operate under the same general principle described below.
1. A slotted rotor or impeller is positioned off-center in a housing bore. Vanes fit within the slots. As the impeller rotates centrifugal force, hydraulic pressure, and/or pushrods push the vanes to the walls of the housing. The tight seal between the vanes and the housing is the key to the good suction common in the Vane pumping principle.
2. Fluid from the left side inlet port flows through holes in the inner housing, filling the space between the vanes, impeller, housing, and casing.
3. As the impeller continues around, its offset position causes the housing to push the vanes back into the rotor. The space constricts and forces liquid out of the right side discharge port.
Materials Of Construction / Configuration Options
Externals (head, casing, bracket) - Cast iron, ductile iron, steel, and stainless steel.
Vane, Pushrods - Viton® and Ryton®
Liner & End Plates - Cast iron, ductile iron, steel, and stainless steel.
Bearing Cap - Cast iron, ductile iron, steel, and stainless steel.
Shaft Seal - Component mechanical seals, industry-standard cartridge mechanical seals, and magnetically-driven pumps.
Packing - Impregnated packing, if seal not required.
---
| | | | | | |
| --- | --- | --- | --- | --- | --- |
| | | | | | |